Fantasy and Horror Online Seminar Scheduled at SWOSU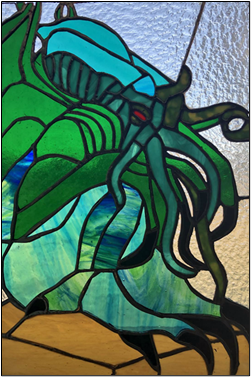 An international online seminar focusing on the connections among Inklings authors and horror literature is being organized by a group of Southwestern Oklahoma State University employees in Weatherford.
"The Inklings and Horror: Fantasy's Dark Corners" will be held February 4-5 on the video conferencing platforms Zoom and Discord.  Sponsoring the event are the Mythopoeic Society and its Weatherford chapter, The Writers of the Rohirrim.  The society is an international organization promoting mythopoeic literature and the Inklings, including J.R.R. Tolkien, C.S. Lewis, Charles Williams and other authors.
Al Harris Library at Southwestern Oklahoma State University is the official repository of the Mythopoeic Society.  Also, SWOSU Professor Emerita Victoria Gaydosik and Assistant Professor Nolan Meditz are editors of the society publication The Mythic Circle.  Other SWOSU employees who are organizing the conference are Reference and Digitization Librarian Phillip Fitzsimmons and staff members Ben Dressler and Diane Fitzsimmons.
Gaydosik said 18 authors from around the world will present sessions on the literary tropes of the horror sub-genre of speculative fiction, including in the works of the Inklings. Other authors who will be examined are George R.R. Martin (Game of Thrones), Andrzej Sapkowski (The Witcher series), Russell Kirk (Lord of the Hollow Dark), and Ernest Cline (Ready Player One).
An online gaming session will also be offered.
The registration fee is $20. Registration is available at https://www.mythsoc.org/mythcon/oms-2022.htm
Leave a Comment