SWOSU Opera Workshop Sets Performances for March 11-12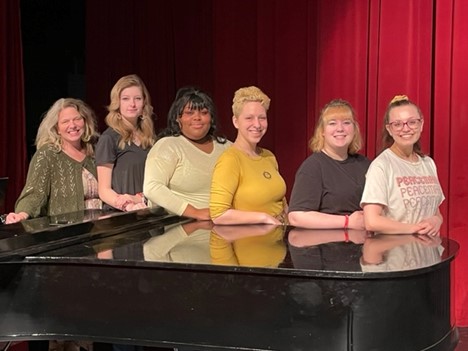 SWOSU Opera Workshop will present a collection of scenes from the musical theatre and opera worlds on Friday and Saturday, March 11-12, on the Weatherford campus.
Performances will be at 7 p.m. in the Fine Arts Center on the SWOSU campus. Admission is free, and the public is invited.
Music by some of the best dramatic composers in history will be featured, including operatic scenes by Mozart, Benjamin Britten, Douglas Moore and more, according to Dr. Kristin Griffeath of the SWOSU Music Department.
All scenes will be presented in their original languages (translations provided). Musical theatre numbers will be performed in cabaret style, and the operatic scenes will feature costumes, set pieces, staging and lighting that will bring the musical stories to life.
Singers from the SWOSU Department of Music will shine in solo arias and songs appearing between the scenes.
Featured singers include: Lo'ren Niko Ballard, Kimberly Berkenbile, Emma Davis, Alexandrea Fife, Abbigail Kerr, Ashton Odom, Piper Smith and Jayley Wingard.  Laura Lee Julian will play piano, joined by Kendrick Brown, drums, and Londin Hine, acoustic bass, for the opening and closing numbers.
Direction is by Griffeath and Dr. Robin Griffeath, lighting design by Bryce Woods and the Fine Arts Center team, with costumes, props, set pieces and makeup and supported by Jessica Salmans, Julian, and the SWOSU Department of Art, Communication and Theatre.
The full listing of musical works will be: "Opening Up" and "When He Sees Me" from Waitress by Sara Bareilles; "Belle nuit, ô nuit d'amour" from Les contes d'Hoffmann by Jacques Offenbach; "Vergebliches Ständchen" by Johannes Brahms; "Their spinning wheel unwinds" from The Rape of Lucretia by Benjamin Britten; "Quando m'en vo" from La bohème by Puccini; "Ah! Perdona al primo affetto" from La clemenza di Tito by Mozart; "Lascia ch'io pianga" from Rinaldo by Handel; "What do you intend to do, Augusta?" from The Ballad of Baby Doe by Douglas Moore; "Sposa, son disprezzata" from Bajazet by Vivaldi/Gasparini; "Let me look at you" from Little Women, by Mark Adamo; "I Cain't Say No" From Oklahoma! by Rodgers and Hammerstein; and "Goodbye Until Tomorrow" from The Last Five Years by Jason Robert Brown.
Leave a Comment