"We want to change this program around": Men's Basketball Team Preview
Last season, the Bulldogs were able to have a season in the spring semester that consisted of 20 games with two games being postponed and one game being cancelled. Now, the Bulldogs are back to having a normal season with 28 games scheduled for regular season play.
The men's basketball team has not had a winning season since the 2015-16 season where the team went 17-12 while playing under previous head coach Bob Battisti. Battisti coached the Bulldogs for the 2016-17 season in which the team went 6-22. Battisti then announced his retirement from coaching.
During the 2017-18 season, the team went 4-24 while undergoing staffing changes. Current head coach Terry Evans accepted the position and took over as head coach for the 2018-2019 season where the Bulldogs went 5-23 during his first year back coaching at the collegiate level.
Although the Bulldogs have yet to have a winning season while under the leadership of Evans, the team as well as coaching staff look to have a successful season after making it to the Great American Conference Championships last year for the first time since the 2015-16 season.
Differences between COVID and non-COVID seasons
Although the team was able to compete last year, it was skeptical that any team would compete at all. For a while, teams were allowed to only have non-contact practices. Now, all teams get to compete and practice without limitations. Junior Chris Braggs Jr. says that the team energy this year compared to last year is "ten out of ten".
"With us knowing that we have a legit season, and we're traveling again, the energy is there," Braggs said. "It's bright every day in practice; we're going at it in practice. Not only in practice but also in the weight room. We're going crazy in the weight room. The energy is very there."
Prospects/Goals
One team and personal goal that Evans had mentioned was to be better at home. He says that it is important to defend the home court; that way, the Bulldogs can use their home court advantage during games. Other goals include going to and winning the GAC Championship as well as going to the NCAA D2 tournament.
Braggs reiterated Evans by mentioning that the team wants to win.
"First, we want to change this program around," Braggs said. "We want to have not just a good season but a great season. We're trying to make it to the tournament. We're trying to be number one. We're trying to show everyone that we're down to play and we're here to play basketball."
On the personal side of things, Braggs said that a goal he has for himself is to be a leader.
"I'm just trying to get my team better, be a leader and be more vocal on defense and offense," Braggs said. "I moved positions. So, with me going to the guard position, I've been working on my shooting. So, my shooting percentage going up this year is a personal goal for me."
Braggs also mentioned that he wants to be a role model for the younger players on the team and show them what a winning mentality is and what a leader does.
Another goal that Braggs has taken upon himself is to help the team have its first winning season after so many years.
"There really hasn't been a winning season, so I'm trying to change that. I should've already done that, but I'm going to change that," Braggs said.
Key Players
Some key players that Evans mentioned are junior Damion Thornton and Braggs. Thornton had entered the transfer portal after last season but decided to return to SWOSU. Evans said that Thornton and Braggs are guys who are capable of "scoring double-figures every night." Evans also believes that Braggs is "the best two-way player" from his skills while on offense and defense.
Braggs believes that not only he and Thornton are key players, but the whole team.
"I say we have Dame, Khobe, a new guy named Ben and his brother Jamaal. I'll put myself in there," Braggs said. "We've had some guys improve such as Tanner and Mason. I just really want to say the whole team because you go out there, and everybody's a threat. So, our key players this year will be the starting five, I believe, so we're going to see."
Additions and Losses
From last season to this season, the Bulldogs lost Bralyn James, Livingston Cleare, Tauriawn Knight, Greg Policard and Jaylen Swift.
However, the Bulldogs have many who are new to the team that are either freshmen or have transferred in.
Sophomore transfers Ben and Jamaal Smith came from Emporia State University and Oklahoma Panhandle State University, respectively. Both brothers played for and graduated from Edmond Santa Fe High School in Edmond, OK. Both brothers also played for two other schools before transferring to SWOSU.
Other additions are freshmen Landry Harris, Nate Burchfield and Abraham Aghasedo, sophomore transfers Mark Berry and DeAngelo Adkins, and senior transfer Andre Houze.
The Bulldogs also have also hired James Bagwell as a new assistant coach. Bagwell is an alumna of Oklahoma Christian University, where he played for all four years of his collegiate career before joining the Eagles as part of their coaching staff for the 2020-21 season. Bagwell is also an Edmond Santa Fe alumna.
Competition
When asked about which schools are viewed as the biggest competition for the Bulldogs, both Evans and Braggs mentioned Oklahoma Baptist and Southern Nazarene. Evans also mentioned Southeastern Oklahoma State while Braggs also grouped in Southern Arkansas.
"Those guys are more consistent, obedient and disciplined, and they play basketball," Braggs said.
Evans also mentioned how OBU beat SWOSU four times last year in games that SWOSU led in points heading into the fourth quarter.
The GAC Pre-season Poll was announced on Oct. 7 with SWOSU being ranked 10 out of 12 teams. Braggs, as well as other members of the team, see this ranking as disrespectful.
"Honestly, it's just a big blow to the gut," Braggs said. "There's only 12 teams here, so it's kind of like a tie for whoever's last. We're taking that as a kick to the stomach. We're ready to go. We're ready to show everybody what SWOSU has this year."
Although the players weren't too fond of the ranking, Evans says that it doesn't mean anything.
"Arkansas [football] was ranked 10 in the SEC preseason poll, but now they're number 5," Evans said. "Preseason rankings don't mean anything."
Regardless of preseason rankings, the Bulldogs basketball team has a chip on its shoulder, and the players are hungry to prove that they belong at the top of the GAC.
Leave a Comment
About the Contributor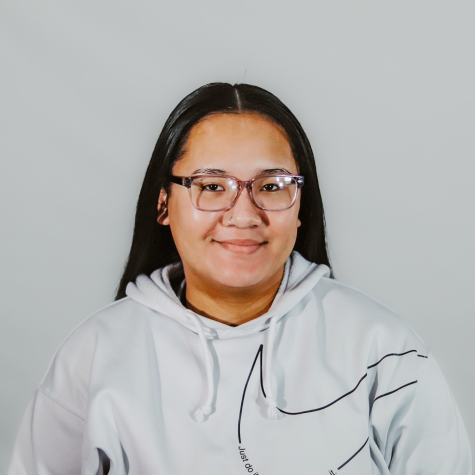 Rachel Masson, Online Editor
Rachel Masson is the Online Editor for The Southwestern. From a young age, she's always been interested in writing and is going to school to purse a degree...