Miss SWOSU and Outstanding Teen had a "great week" at Miss Oklahoma
Last week, Miss SWOSU Natalee Karcher, Miss SWOSU Outstanding Teen Peyton Davis went to Tulsa to compete in the Miss Oklahoma 2021 pageants.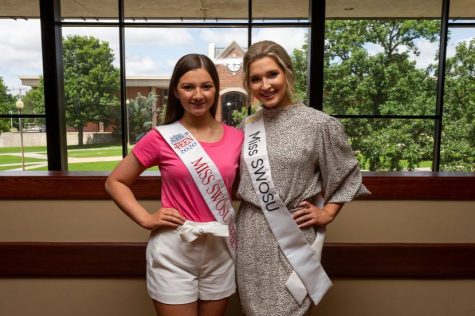 "The girls had a great week," Kendra Brown, Director of the Miss SWOSU program, said. "They were all smiles all week. They worked hard all week, but it was very rewarding."
Jaylee Moore, Miss SWOSU's Little Star, also attended the week-long of activities.
"She enjoyed a unicorn cake and a special lunch with Natalee," Brown said.
Miss SWOSU Natalee Karcher tied for a rookie talent award.
Brown: "Her talent was amazing. She really commanded the stage. She was a great quality to her voice, and clearly the judge's heard it. Her warm smile and friendly demeanor made her a great representative of SWOSU."
Miss SWOSU Outstanding Teen Peyton Davis made it to the top 11.
"Her talent was impressive. I think she grabbed the audience's attention quickly. She tapped her heart out, all with a smile on her face."
Also, SWOSU won 1st place for Cash Scholarships.
The next Miss SWOSU competition for Miss SWOSU 2022 is on January 29, 2022. The Miss SWOSU Board will be meeting in the next few weeks to set dates for the information meeting and entry deadlines, according to Kendra Brown.
Leave a Comment