SWOSU Training Room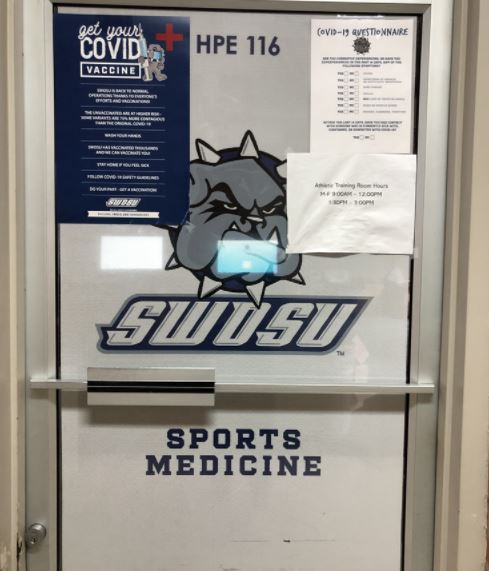 The SWOSU Training Room has many benefits to students who need help with injuries from their sport. Athletes who are injured or have any problems can schedule a time with Edwin Detweiler and get the help they need. Detweiler will help athletes prevent injuries as well.
"It really just depends on the injury for what we have each athlete do," Detweiler said. "I'm old school. I like to have athletes go back and forth with hot and cold because it promotes blood circulation. It's important that the athlete will have more strength and be healed at the end of their recovery."
Keyon Barnett is a freshman and has recently been injured. During football practice, he was running a route and tore his ACL and his meniscus, so he's been doing physical therapy. In the training room, Detweiler has him ride an elliptical to warm up his leg, and then he does exercises such as calf and hamstring stretches followed by a series of squats.
"I have to do this for seven more months, and it's only been two so far, but it's perfect timing because next year I will be back on the field," Barnett said.
Nate Burnard is a senior on the football team and currently has an issue with his foot; Detweiler helps him warm up his foot with a heating pad. After that Detwiler does acupuncture or needling.
"It didn't feel too good, but it definitely has helped with what's going on," Burnard said.
Ani Vasquez, a sophomore on the cheer team, goes to the training room to get her wrists properly taped up for game days. She has a chronic hip injury, so Detweiler gives her stretches to help with her blood circulation.
"It's a very friendly environment and Edwin really knows what he's doing," Vasquez said.
Damion Thornton, a junior on the basketball team, also goes to Detweiler for help. The basketball team does ice baths after practices for temporary stability, but Detweiler has specific exercises and treatments for each injured athlete.
"We usually start off by warming up my sore area with a heating pad then we do other treatments like scraping to make it feel somewhat better," Thornton said. "Scraping loosens up the blood and kind of makes it flow throughout the body which basically makes it feel new again."
Leave a Comment